FACT CHECK ON THE OPPOSITION:
MISREPRESENTATION: "District Attorney's Office has suffered high turnover."
FACT: Since 2007, five attorneys, each with over 25 years of service, have timely and voluntarily retired.
FACT: Since 2007, four attorneys resigned on good terms to take other jobs.
FACT: Since 2007, three were given the opportunity to resign.
FACT: Complacency and poor performance are not tolerated in the Office.
MISREPRESENTATION: The opposition is endorsed by ALL sheriff's deputies.
FACT: Most of the deputies were unable to attend and less than 20% of the association actually voted.
FACT: Sheriff Keith Royal endorses and supports Cliff.
FACT: Sheriff's Management (Sergeants, Lieutenants and Captains) endorse and support Cliff.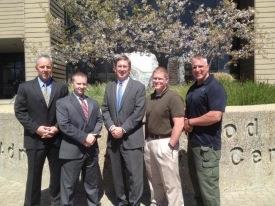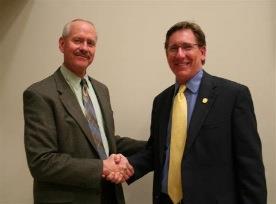 MISREPRESENTATION: All of the Deputy District Attorneys in the D.A.'s Office support the opponent.
FACT: Six of the eight attorneys in the office support Cliff. See photo below from May 7, 2014, campaign event. The remainder of the staff remain supportive and loyal.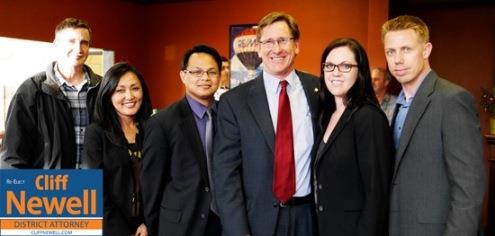 MISREPRESENTATION: Cliff is the only District Attorney that doesn't do jury trials.
FACT: Most Elected District Attorneys in California that have medium to large jurisdictions like Nevada County have too many responsibilities and do NOT have time to try cases.
FACT: Cliff is an accomplished trial attorney. In the months prior to being elected in 2006 Cliff did 15 jury trials, more than all the other Deputy DAs combined.
FACT: R. Scott Owens of Placer and the elected District Attorneys of Yuba, Yolo, Amador and Colusa counties have endorsed Cliff's campaign, D.A.s that know what the job is about.
MISREPRESENTATION: Criminal offenders are not held accountable otherwise known as the "revolving door."
FACT: Violent Crime is down 42% since 2006.
FACT: We prosecuted an unprecedented 30 jury trials last year.
FACT: Ten more defendants (23) went to prison in 2012 than 2011.
FACT: Nevada County ranks lower in crime than all comparable counties.
MISREPRESENTATION: Cliff interfered with an investigation into a mortgage fraud case.
FACT: Cliff and his former wife had a mortgage with a company that was investigated by the California Attorney General's Office for loans unrelated to the Newells. The investigation was initiated on May 22, 2009, by Grass Valley Police Department and the Attorney General's Office. The case was closed on February 1, 2011, after a complete investigation. The police report (obtained through a public records request) reveals "During the course of the investigation, the AG's Office reviewed the case." Cliff Newell and the District Attorney's Office had no contact with the investigation.