Truckee Contractors Association Endorse Cliff Newell - Yubanet
April 23, 2014 - After interviewing both candidates vying for the seat of Nevada County District Attorney, CATTPAC, the Contractors Association of Truckee Tahoe Political Action Committee, is endorsing incumbent Cliff Newell for another four year term.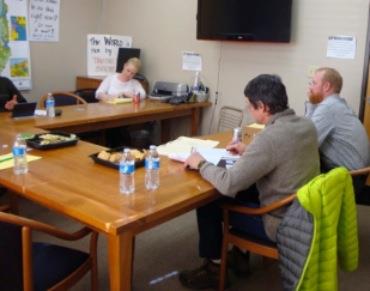 The CATTPAC Board cited two compelling reasons for the endorsement. Cliff not only set up "sting operations" to catch unlicensed contractors in Nevada County but has also promised to continue these stings in the future. Cliff's stance to "toughen up" the District Attorney's office by enforcing a true eight hour work day also resonated with CATTPAC from a good government and business perspective.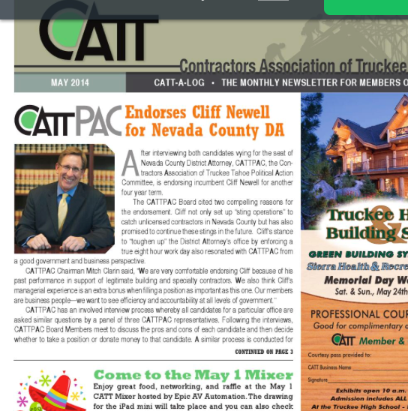 CATTPAC Chairman Mitch Clarin said, "We are very comfortable endorsing Cliff because of his past performance in support of legitimate building and specialty contractors. We also think Cliff's managerial experience is an extra bonus when filling a position as important as this one. Our members are business people – we want to see efficiency and accountability at all levels of government."

CATTPAC has an involved interview process whereby all candidates for a particular office are asked similar questions by a panel of three CATTPAC representatives. Following the interviews, CATTPAC Board Members meet to discuss the pros and cons of each candidate and then decide whether to take a position or donate money to that candidate. A similar process is conducted for propositions, local ballot measures, etc. CATTPAC has a 79% successful track record endorsing both candidates and propositions/measures.
http://yubanet.com/regional/CATTPAC-Endorses-Cliff-Newell-for-Nevada-County-DA.php#.U3Zp7ca3AXs